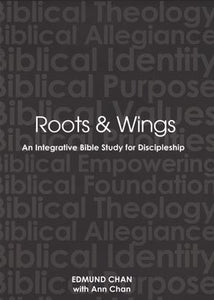 Deepen your roots and spread your wings.
Ever been baffled by why you or the people you are discipling still stall in your discipleship journey?
Ever wondered how to identify the root issue and what to do about it?
Roots and Wings is a 12 week Discipleship Bible Study built around the Eightfold Core Curriculum developed by Edmund Chan. The Eightfold Core Curriculum identifies the eight fundamental aspects of discipleship, and helps you to both diagnose the root issues that are hindering discipleship, as well as determine what to do about them!
Each aspect of the Eightfold Core Curriculum leads you to answer a fundamental discipleship question:
Biblical Theology: Who is God?
Biblical Allegiance: Who is my Master in life?
Biblical Identity: Who am I?
Biblical Purpose: What am I called to do?
Biblical Values: What is of utmost importance in my life?
Biblical Priorities: What are the things I must put first?
Biblical Empowering: How can I be empowered?
Biblical Foundation: What should I anchor my life upon?
Very well received in field tests conducted over the past few years both in Covenant EFC and in other cultures and discipleship contexts, Roots and Wings is now being made available to the wider body of Christ.
As you use this Bible Study in your small groups to get a clearer perspective on the process of discipling, may you find the 12 weeks to be life transforming. May your spirit roots be deepened and may your faith wings take flight!