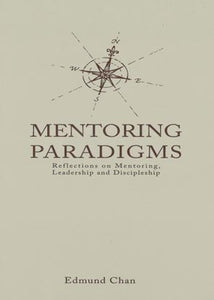 "...lays out excellent principles of leadership and discipleship." - Rev. Dr. Kong Hee, City Harvest Church
"...a treasure trove of truths that will help every pastor as well as marketplace minister..." - Lawrence Khong, Faith Community Baptist Church
In his years of Christian ministry, Rev. Edmund Chan has earned a reputation of being a skilled bible expositor and preacher, devoted to biblical discipleship and mentoring future generations of biblical leaders.
This book is somewhat like a culmination of all those years of experience fueled in the crucible of ministry. Organized in 30 succinct chapters, Edmund Chan brings us through a journey of Christian discipleship based on keen biblical reflection and wisdom.
From the inner life and one's core values to leadership competence and team ministry, Mentoring Paradigms is a brilliantly written book that makes an excellent addition to your shelf - whether you're a seasoned leader, aspiring bible teacher, pastor or seminarian.
"This is vintage Edmund Chan!" - Rev. Benny Ho, Faith Community Church, Perth, Australia