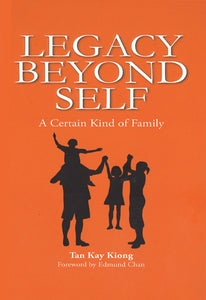 There are no shortcuts when it comes to spiritual investment. Delivering clear concepts based on biblical principles, Legacy Beyond Self is an essential tome of wise counsel about why living a willing life matters - for the sake of growing into Christ-likeness.
Drawing deeply from the well of his personal experiences, Tan Kay Kiong offers down-to-earth insights about our inner life, marriage and parenting, while dispensing nuggets of wisdom with refreshing candour and humour to show us how to take proactive steps towards personal and family fulfillment.
Whether you are single or married, anyone who desires to put Jesus first will find practical guidance in this inspiring book on how to nurture families of a certain kind that will impact the generations to come.
BOOK COMMENDATION
"I spent the last six hours reading your book from cover to cover and just felt I had to immediately drop you this note. I've been blessed, challenged, inspired, and provoked to double-down my efforts particularly in loving my wife and kids in a way that they understand and to leave that lasting legacy in them, recognising it starts with the centre - my "unsurrendered life, unfinished business, and unexamined parenting styles". There's still much I have to unknot and tie. It will probably take six years or more! Also, Appendix A alone is worth the price of the book - really great job done by all the ladies in your family. Thank you so much for being as authentic and real as I've had the privilege of knowing you to be. I am proud of you as my Senior Pastor for authoring such a refreshing piece of work. I thank God for you and your family! Glory to God!"
Low Wei Shing
Worship Leader, CEFC
"Just wanted to say that I've just finished reading your book "Legacy Beyond Self".  I'm really encouraged and challenged by some of the things you shared in your book. Thank you!"
Michael Yeong
Pastor (Discipleship and CE)
Bethesda Church Bukit Arang
"Thank you for the wonderful book! I have read the book this morning in one sitting. I would like to sum up my thoughts in 3P's: PERSONAL - full of real examples and honest truths in your journey as a servant of God, husband to Diana, and father to your two girls; PRACTICAL - the acronyms and Biblical perspectives are very helpful and constantly bring me back to the Bible; (Thought) PROVOKING - it makes me reflect about my own personal life, married life, and family life. The questions at the end are very helpful for further discussion and a good way of sharing the lessons to others. Thank you once again for sharing your life through this book. May the Lord use this book to bless many families!"
Wilson Tan
(Brother of Ps Tan Kay Kiong)
"Thanks for giving me a copy of your book! I am two-thirds through it and have been immensely blessed by your authenticity and useful principles. Looking forward to applying them in my own life, my marriage with Jeanne, and most importantly our relationship with Him!"
Phua Chun Yat
Deacon, CEFC
"I read your book in two days. When your dams in the family broke, mine broke too. Under chapter seven "Learning the Ropes" and under the section "Knots We Must Tie", I am learning to tie them with my sons, and more importantly, what my grandchildren should be in my family name KONG. Your book is a blessing, even more as you share your life so transparently and give so many examples of how you walk the talk! I believe it will bless many and it may even be a good idea to use for our upcoming retreat."
Kong Eng Teck
Member of Hebron BP Church
Managing Director for an American Software Company responsible for business in APAC.